Unlock Pattern Lock Without Restoring Your Android Device
Smartphone users increases day by day. Use Smartphone for calling,photography,internet and more purposes. Now most of the peoples entering into the world of internet through Smartphone. Most of the  smart phones are in android platform. Pattern lock  used most widely for lock android devices. Normally we  forget  the pattern lock some times. Without correct pattern lock we have no option to unlock the android device. In this cause we restore the Smartphone or flash the device. This will cause to lose all datas in the device. There is an option to unlock the  device without restore. We use Google device manager function. To use this method you must login into Google account by using that Smartphone.
1) Go to Google device manager by using pc or any other devices. It is the official device manager option from Google. https://www.google.com/android/devicemanager
2) Sign in into the Google device manager using your Google account that you have used in that device. Now you can see a new popup window. Click Accept option.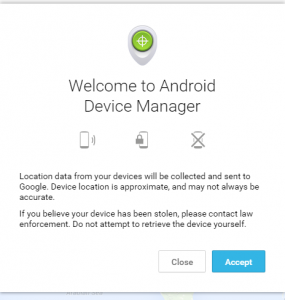 3) Select your device you want to unlock
4) Select Lock button. Now you can see a new pop up window
5) Enter new password and optional details .Then click Lock Button.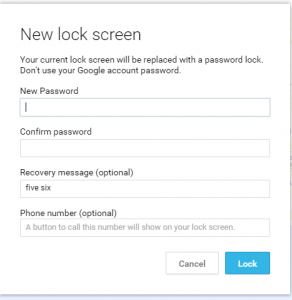 6) Now your device will be locked with new password
7) Unlock your device using new password created using device manager.