How To Setup A Custom Domain On Blogger
How To Setup A Custom Domain On Blogger.Blogger.com is the platform from google for publishing contents into public.The blogger platform is first developed by  pyra labs.After that google will bought blogger platform in 2003.Now blogger.com will owned by google.The blogger platform will hosted by google and it will works with sub domain blogspot.com .Every user can create blog on blogger.It will free of cost and you get your domain with sub domain blogspot.com. After that you can post contents and it will available on worldwide.
Some times the blogspot.com sub domain is irritating.There is an option to remove the sub domain by adding a third party high level domain.By adding a custom high level domain the blog will obtain  a stranded look.This post will helps to connect a third party domain purchased from godaddy  to blogger. Godaddy is internet domain registrar and hosting company.Now godaddy will manage more than 61 million domains.Godaddy will founded on 1997.
How To Setup A  Custom Domain On Blogger.This was very easy to setup a custom domain on blogger.
1)Login into your blogger account using gmail id and password
2)Go to dashboard of Blogger then click settings option on bottom of the page.

3)Then click basic option.Now you can see a option setup a third-party url of the blog

4)The enter the domain with www you want to setup.
5)Then check the box for for redirect www.yourdomain.com to yourdomain.com.The click save button.
6)Now you get an error.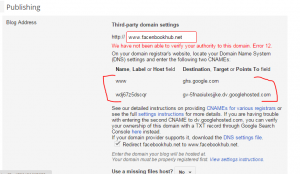 7)Then login into your godaddy account.go to your domain that you want to setup to blogger.Click domain management.Then go to DNZ zone.
8)Now need to enter the 2 errors the you see on blogger to DNZ of the domain
9)Click add a record,then select cname then first enter www to hostfield and ghs.google.com to points fileds.after that enter the second blogger pointing detailes to cname via same format.Then save the cname record.
10)Then go to blogger again try to save.Now the domain is saved and now you connected domain to blogger