Latest Whatsapp Hacking and Privacy tricks
Latest Whatsapp Hacking and privacy tricks.WhatsApp is a instant chatting platform.Whatsapp is available on android, windows and other platforms. Whatsapp helps to connect with friends and family. WhatsApp will work by using 2G/3G/4G/5G or any available Wi-Fi.Most widely whatsapp app used for text messaging purpose. Now people do not use SMS service, they are use whats app for texting instead of SMS.Whats app will also provide free call service. The clarity of the voice call through whats app is depending on  the type of network used.3G network will provide better voice clarity.Whatsapp allows to share images,videos,voice records through whatsapp.The Latest version of the whats app will supports Document sharing option through whatsapp.Whatsapp is now free for life time.Normally we can use only single whatsapp in a mobile.We can use upto three whatsapps in a single mobile by using third party applications.
HOW TO SEND ANY TYPE FILES VIA WHATS APP
Normally whatsapp allows to share images,videos,contacts,recordings over whatsapp.Now whatsapp allows to share Documents through whatsapp.But there is some restrictions on whats app.Whatsapp donot allows to share large type files ,GIF images,Mp3 Files,Archive files,and other type file formats.But Now we can share any type files over whatsapp upto  1GB size.This can be possible by installing thired party application whats tools.Whats tools is an android application its like  a plug-in for whatsapp.It helps to share any type files upto 1GB.
MAKE A NOTEPAD ON WHATSAPP
Normally whatsapp never allows to create a note pad on whats app.We can create Note pad on whats app by using a simple trick.
Create a new whats app Group
Set the group name as NOTEPAD
Add any one member to the group
Then remove that member from the group
Now your notepad is ready
WHATSAPP PRIVACY TRICKS THAT YOU HAVE NEVER SEEN
Find  contacts that have been blocked by you on whats app
Latest version whats app supports to find blocked contacts on whatsapp. Do following steps to find Contacts on whatsapp Blocked by You
Click Whats app options.Three dots on the top right corner.
Then go to Account
Then click the option privacy
Now you can see some privacy options
Click Blocked contacts under the section messaging.
How to turn off Last seen option whatsapp
Click Whatsapp options. Three dots on the top right corner.
Then click the option privacy
Now you can see some privacy options
Click the option Last seen
Mark NOBODY
How to turn off profile picture  seen option whatsapp
Click Whatsapp options. Three dots on the top right corner.
Then go to settings>> Account
Then click the option privacy
Now you can see some privacy options
Click the option profile photo
Mark to Nobody
How to turn off status  seen option whatsapp
Click Whatsapp options. Three dots on the top right corner.
Then go to settings>> Account
Then click the option privacy
Now you can see some privacy options
Click the option status photo
Mark to Nobody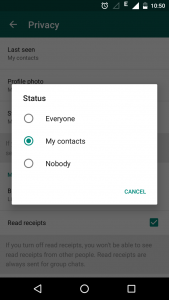 CUSTOMIZE FONT ON WHATS APP
This can be possible using third party applications.We can create different style and different color fonts then we can use text created by using that font anywhere in the whats app.CLICK HERE TO READ THE ARTICLE