Interview With Sazia Kazia,Emerging Female Blogger From South India
Interview With Sazia Kazia, Emerging Female Blogger From South India.Our Guest Today is Sazia Kazia, one of the emerging Female blogger and Entrepreneur from Karnataka.Sazia Kazia will be sharing her experiences in blogging Field.The experience of a successful blogger will help to the beginners.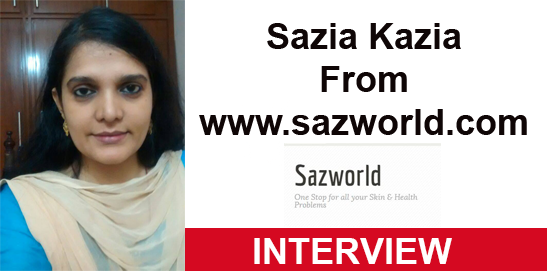 Welcome to newfra, Tell about yourself and your blog?
Hi I am sazia kazia from Andhra Pradesh, founder of www.sazworld.com. I am writing on a multi-niche blog since NOV 2014 about Herbal beautician course, we can cure diseases through natural fruits and remedies and veg /nonveg recipes.
I am interested in learning new things and teaching to others which I know. From childhood, my hobby is reading books about health and beauty. I like and respect humanity more than wealth.
Tell me about Your Education and career background?
I have completed M.A through Andhra University and completed PGDCA in computers application software. I worked as a programmer and completed Hyderabad bank live project. While I was studying B.A I got a job and my first salary was 8000/PM. Now I am working in MNC company as a Recon Analyst.
How did you first get into blogging?
One day I read about Imran Uddin and other three bloggers in DC paper. Imranuddin is on top as a successful blogger in a paper so I started searching on internet net about him and his blog. I joined facebook and met Suprabhat Mondal and started learning about the blog.
Then one day I joined Iftekhar Ahmed PTI group where I learned a lot about blogging. I started doing research on Google about the blog and different niches keywords and learned how it works. I started my own blog Sazworld on blogger platform.
I met one person on FB whose name is Syed Wajeed and he taught me a lot whenever I find difficulty he was always there to help me.
Then I joined Gaurav Jaggi group Blog with Jags and learned a lot by watching his webinars on blogging. After that, I added so many bloggers on FB and started learning from them as well. Different people different thoughts as something works for one it may not work for others. I also learned blogging courses from Abdul Wali videos online ustad.
4.What type of networking do you think is better to enhance your traffic to the blog?
Tumblr, Facebook, Twitter, Social land,Stumbleupon, Google+, Linkedin, Instagram, ReTumblr etc.
5.What would be your ideal working environment?
It should be silent and pleasant.
6.What do you do in your spare time?
I hardly find leisure time.I listen to music and do painting as I know oil painting.
7.Can you name some of your favorite bloggers and explain why they are your favorites?
Imranuddin, Iftekhar Ahmed, Gaurav Jaggi, Abdul Wali, Harsh Agrawal, Neil Patel, Syed Balkhi, Mohd Arif, Rahis Saifi, Jyoti Chauhan, Harleena Singh, Kulwant Nagi, Bharat Sharma, Lasya K Elzibeth, Anurag Balagam, Rahul Poonia, Danish Khan, Preeti Ratra, Shoaib, Philip Verghese, Yash Mehta, Ariel, Lesly Federici RN, Erika Mohsen beyk Monna Ellithorpe, Willaim o Toole, Sonal Talwar Bharat Sharma and Kathryn Maclean, Ikechi, Mandy Allen,srinivas sarakadam and Mohammed farman  etc as they are successful  and very kind helpful to us.
8.What inspired you to start your blog?
In blogging, we can spread good words which are beneficial and useful to people as well as we can earn good amount of money by sitting at home.
9.Did you have any professional help or did you created the blog yourself?
When I Started blogging on blogger platform I don't know anything I learned from Google and from the people I already mentioned above.
Syed Wajeed helped me to design the blog on blogger platform. After that, I got few errors and unable to correct HTML code. Then Imranuddin and Anurag Balgam helped me to move my blog from blogger platform to WordPress. Imranuddin explained few things about content images and plugins. Few things implemented which are learned from Iftekhar Ahmed, (PTI group) Gaurav Jaggi (webinars) Syed Balkhi, Abdul Wali, Harsh Agarwal and Neil Patel. Then I added plugins and design the blog by doing research in Google.
I am very thankful to all for their support and help as without these all people and without almighty of god it is not possible for me to stand as a blogger. I have two other blogs which are going smooth without any share on FB. I implemented all which I learned from Google and from these people and It works for me better on those two blogs than sazworld.
10.How much time do you spend blogging?
2 hours in a day.
11.Would you encourage other people to make their blog?
If they are interested in sharing something which is beneficial for others. It should not be for the sake of money but for the sake of humanity honestly along with earning.
12.Is blogging your profession or just a hobby?
It was my hobby in the beginning now it became my profession.
13.A lot of people think that blogging is an easy way to make money online. Do you have some tips for those people?
It is not easy I use to spend a lot of time on the blog after office and in the beginning, I use to sleep only for one hour in a day. It is like few things work for others that may not work for us we have to implement things by doing research and by doing an experiment on the blog.
14.Income channel
Adsense
15.Blog Url
www.sazworld.com
16.Blog niche
Health, Beauty, Recipes and News
17.Alexa rank
Alexa Rank 330,525 Globally and 56,969 in India. Earlier it was 150,000 globally and 25000+ in India. Slowly it increases as I am unable to update post regularly.
18.Facebook ID
19.Include Any Extra details you need to add?
Thank you so much Nishad Nizar for giving me this opportunity to say few things about me and my blog.
ALSO READ: BESTANDROID SMARTPHONES UNDER 10000RS