First Nokia Android SmartPhone Nokia 6,Price,Spec,Release Date
Nokia 6 will be the first Nokia Android smartphone.Nokia 6 is launched in China on Sunday 8th January.The price of Nokia 6 in the Chinese market is approximate 17000Rs. Nokia 6 is to be coming soon to the Indian market.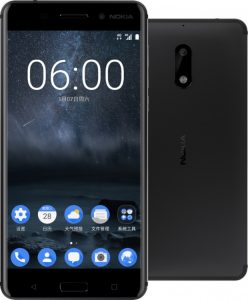 Nokia is founded on 1865, and it is one of the trustful brand names in mobile phone industry.At that time Nokia is the largest manufacturer of mobile phone industry.After the launch of Android-based smartphones, Nokia struggled in mobile phone industry.Nokia will be produced Symbian based smartphones.But that will don't make much success.After that, Nokia starts to make Windows-based smartphones, which will also not create any significant success.Nokia will be not used Android Os in Smartphones.Due to that Nokia brand is to be going down from smartphone industry.Samsung and Other manufacturers started to acquire smartphone industry.Now Nokia has implemented Android Os on their smartphones.Nokia 6 is the first Nokia Android Smartphone.
Specifications & Price Of Nokia Android Smartphone
Nokia 6 runs on Android 7 nougat Platform.Nokia 6 will come with 5.5-inch screen display with a resolution of 1080×1920 pixel.Which is also provide Gorilla Glass screen protection.Nokia 6 is powered by Qualcomm Snapdragon 430 processor with 4GB RAM.Nokia 6 is provide 64 Gb internal storage expandable up to 64Gb via micro sd card.Nokia 6 will pack with 16mp Primary camera and 8mp secondary camera.Nokia 6 have 3000mAh non-removable battery.Nokia 6 is one of the considerable for smartphones under 17000RS.
Nokia 6 Price
Nokia 6 have only launched in the Chinese market.Now the smartphone not available in Indian market.The price of Nokia 6 at Chinese market will be 1699 CNY (approximately 17000Rs).
How to Buy Nokia 6
Nokia 6 is not launched in India.The smartphone will be available in Chinese online portals.you can buy the smartphone from the Chinese online portal jd.com.
Nokia 6 Indian Release Date
Nokia 6 is now only available in china.The company says they have no plans to launch Nokia 6 in other markets.Nokia 6 will be the chines exclusive smartphone.