Enjoy Live TV On Your Mobile With Radio Recording
Enjoy Live TV On Your Mobile With Radio Recording.Yes!now its possible on the Android platform by using an android application.Zan Live TV is the application that provides Live programs, serials sports on your mobile for free.You can watch Malayalam, Hindi, Kannada, Telugu Channels.Sports channels also available on this application.This application will provide an extra feature, that is radio channels.Normally these type live TV Android applications don't provide radio channels.But ZAN Live TV provide this extra feature.ZAN live tv application will provide 200 Live TV channels and 200+radio channels.You can also see Live Score with this application. Don't miss any TV programs.because All channels are now on your Android Device.The video quality of this application will be much better than other applications.You can Enjoy Live TV option by using 2G network.But the 3G network will provide faster streaming with high quality.Am prefers 3 G or higher network with this application. With the 3G network, you can see HD quality channels with low buffering.You can record the radio programs and share with your friends.
Also Read: Famous YouTubers From Kerala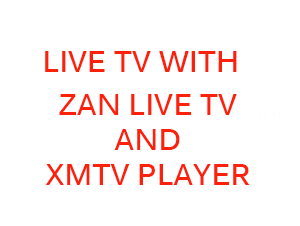 You need to install XMTV player with ZAN Live TV application.XMTV Player is a free Multimedia and streams player.This player has the ability to play Live And VOD streams.You can Also play any type multimedia files by using this application. You can see Play/pause, rewind, next options at the bottom of the screen when you play any file.
DOWNLOAD ZAN LIVE TV APPLICATION
DOWNLOAD XMTV PLAYER
First, you need to download the XMTV player and open the application
Then download and open ZAN LIVE TV application
Other applications for Watch Sports Channels are listed below:
Download Sports TV For Android
Also, you can watch the live cricket and sports channels on the hotstar web and mobile apps.Enjoy the sports and entertainment programs on your smartphone.