Download WhatsApp Desktop App For Window And Mac
Download WhatsApp Desktop App For Window And Mac.Everybody know whats app is the worlds largest and popular instant messaging platform.Recently whats app introduced end to end encryption service for the whats app mobile users.Now Whats app newly introduces whatsapp desktop app for windows and Mac platforms.Now you can use whats app on your computer system from anywhere.The desktop app is similar to the whats app web and it is the extension of whats app in your phone. The desktop application will be shows all the messages and detailed conversations from your mobile device.The whats app desktop app will have no link with web browser.The new whats app desktop app will be available for  windows 8+ and Mac os 10.9+ users.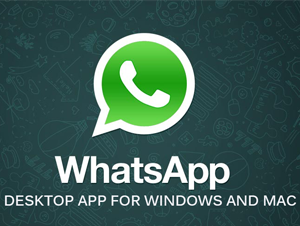 The desktop app runs natively on the desktop,you will have support for native desktop notifications ,better keyboard notifications and more.
How to use whats app desktop App
The installation and use of the  whats app desktop  app will be same as the use of whats app foe web.Download the whats app desktop app from here using your web browser.Then open the application and scan the QR code using whatsapp  app on your phone(open whats app on your phone ,then click options on the top,then select whats app web).Now you can access whats app on desktop app just like whats app web.
Whats App for Windows PC Shortcuts
Ctrl + N: Start a new chat
Ctrl + F: Search
Ctrl + Backspace: Delete chat
Ctrl + Shift + N: Start new group chat
Ctrl + Shift + M: Mute Chat
Ctrl + E: Archive chat
Ctrl + Shift + U: Change read status
Whats App for MAC os  PC Shortcuts
Command + N: Start a new chat
Command + F: Search
Command + Backspace: Delete chat
Command + Shift + N: Start new group chat
Command + Shift + M: Mute Chat
Command + E: Archive chat
Command + Shift + U: Change read status