Best Fuel Efficient Bikes In India Under Rs 50000
Best Fuel Efficient Bikes In India Under Rs 50000.Mileage will be one of the important factors of the vehicle.The vehicle manufacturers are always trying to improve the mileage of the vehicle.But now the youngsters are only looking for the popularity and power of the two-wheeler.They don't consider the mileage of the vehicle.Hero and Bajaj are the vehicle manufacturers they are constantly trying to provide the best mileage.Here is listed some best fuel efficient bikes in India 2016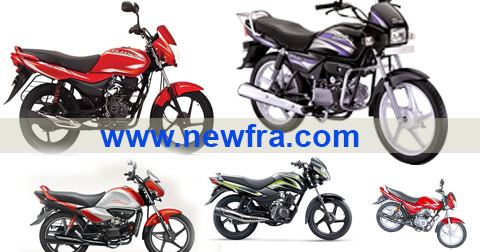 Bajaj Auto Ltd recently launched a new bike in platinum series named as Bajaj Platina ComforTek.The new Platina ComforTek will be priced at Rs 43200.There are two variants available.
1)Bajaj Platina 100 alloy ES
2)Bajaj Platina 100 alloy KS
Bajaj Platina ComforTek is available in 3 colors ,Black,blue and red.They are offering mileage up to 104Km/l.
Hero Splendor iSmart is another one providing best mileage.They are offering mileage up to 102.5 km/l.Hero Splendor iSmart has the 97cc engine with Idle start top technology.Hero Splendor iSmart available at the price range 50000Rs.The look will be stunning and the color scheme will be awesome.
TVS launched a new version of the sport motorcycle.Tvs sport will come with 99.7cc single cylinder engine.They are offering 95km/l mileage in normal conditions.TVS Sport will be available at the price range under 40000Rs.
Here Splendor Pro will be offering mileage up to 93.1km/L.The price range is under 48K.Here Splendor Pro will have 93.2CC ,4 strokes single cylinder engine.The look will be same like previous splendor models.They have added some extra features to Here Splendor Pro.
Bajaj CT100 is powered by 99.2 cc single cylinder air cooled engine offering mileage up to 99.1km/L.The price will be under 36k.The look will be like old.They are offering sporty color graphics and alloy wheels.